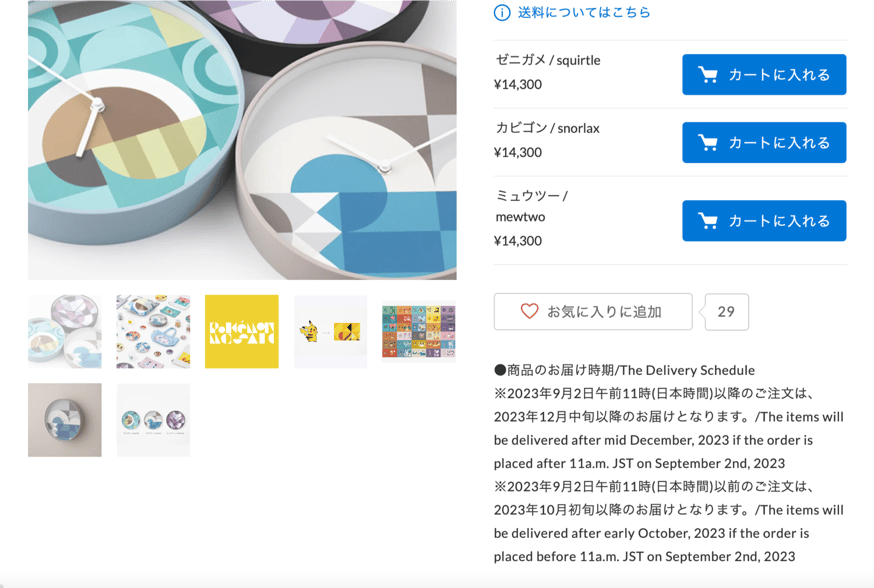 Pokémon Mosaicアイテムのお届け時期について
9月1日(金)に発売になりましたPokémon Mosaicのアイテムにつきまして、お届け時期に関するお問い合わせを複数いただいておりますが、ご注文のタイミングによってお届け時期が異なる点を商品ページに明記しておりますので、ご購入に際しましてはこちらを必ずご確認の上お手続きをお願いいたします。
■以下の商品のお届けは12月中旬以降になります。
・9月2日(土)午前11時以降ご注文のLunch Tote Bag(全柄)、Flat Pouch(全柄)、Cushion Cover(全柄)、Wall Clock(全柄)
・9月19日(火)以降ご注文の Flat Tote Bag / ピカチュウ・ラプラス・ギャラドス&コイキング
※いずれも予定数完売の場合の次回納品時期は未定となります。
■また、複数の商品を同時にご購入いただき、その中に1点でも上記12月中旬以降お届けの商品が含まれている場合は、そちらが入荷後、まとめてのお届けとなります。他の商品を先行してお届けすることをご希望の場合は、12月中旬以降お届けの商品と、それ以外の商品とを別々にご購入ください。
ご理解のほどよろしくお願いいたします。
We have received multiple inquiries regarding the delivery time of the Pokémon Mosaic items launched on September 1st. We have made it clear on the product page that the delivery time will vary with the timing of your order and would like you to carefully check this before purchasing.
The following products will be delivered from mid-December onwards.
・Lunch Tote Bag (all items), Flat Pouch (all items), Cushion Cover (all items), Wall Clock (all items) for orders placed after 11am on September 2nd.
・Flat Tote Bag (Pikachu, Lapras, Gyarados & Magikarp) for orders placed after September 19th.
*In case of sold out later on, the next delivery date has not been decided yet.
If you purchase multiple products at the same time and even one of them is the one delivered after mid-December, the whole order will be delivered together once they are in stock. If you would like us to deliver the available products in stock prior to mid-December, the order is required to be placed separately between the one(s) for delivered after mid-December and other(s).
Thank you for your understanding.